Day Office Rental
Rent the Day Office meeting room by the hour ($20) or rent any one of our vacant offices for $40 per day.  Virtual Office memberships entitle you to additional discounts on meeting room hourly rates.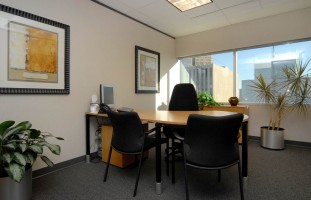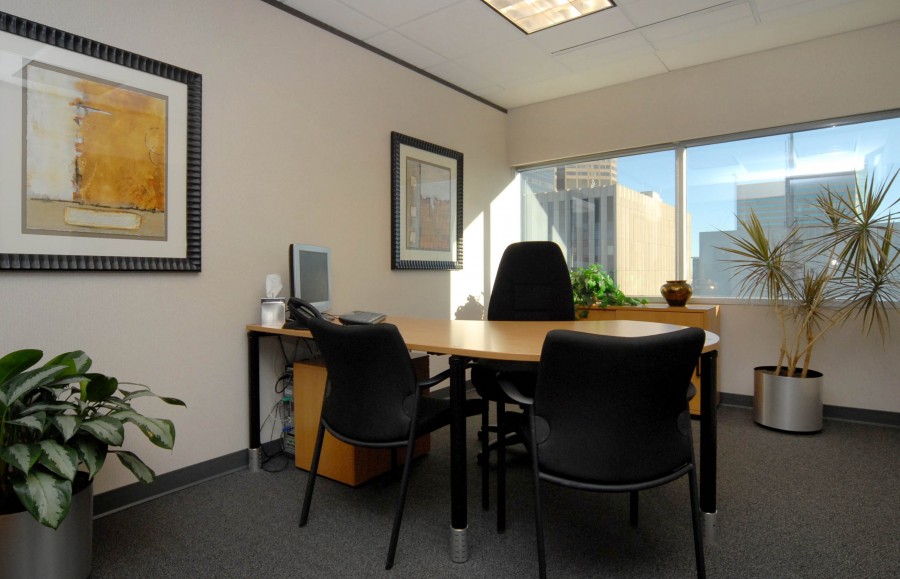 We have a specific meeting room that we call the Day Office (the image above) and we will also provide daily office rentals in any of our vacant offices for $40 per day.   The Day Office meeting room rental is a 10 X 15 foot office near the reception area.  The room has 28th story city center views, a glass marker board, Ethernet or WiFi access to the internet and a phone.  The room  is configured to look like an office with a desk, executive chair plus two guest chairs for your visitors.
The normal hourly pricing for a  Day Office rental is $20 per hour.  Our Virtual Office members receive a $5 per hour discount from the hourly price.  If you have needs for multiple reservations per month, consider becoming a Virtual Office customer for $75 per month to get the reduced price for conference rooms.
To book a Day Office rental in Denver click the link above or call (303) 260-6400  for our reservations desk.
For more information about the area go to Location.
Reviews:
"I rented a small conference room for three hours to conduct a mediation.  It was an excellent decision.  The office area is sparking clean and very well appointed.  The room itself was new and professional.  There were a couple of areas where I could ask my clients to wait while I spoke to the others in private.  Free coffee and water was readily available.  The reception staff was very professional and coordinated with me as my clients arrives .  When it looked as if my meeting was going to run over, the staff allowed me to stay in the room to complete my business.  Booking in the first place was very easy and the rates were very competitive.  I have no hesitation in recommending this facility to anyone and will likely use it again frequently."
– Anthony Matthews
"Sarah and the staff at YourOffice are great, the office is run professionally and the facilities are impressive.  I'd recommend YourOffice for any company with telecommuters who have a need for a professional work environment in downtown Denver."
-Paul Plvan
To see more reviews go to Reviews.
Contact us today for more information about a day office rental in Denver