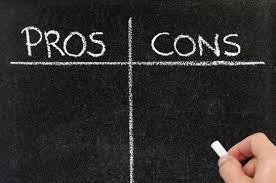 Many business owners first start out working from their homes or different places around town.  After awhile many of them consider getting a virtual office.  Are you thinking about getting a virtual office but you aren't sure if it's right for your business.  Check out the pros and cons of a virtual office and see if it is right for you.
Pros of Virtual Offices
Cost-Efficient: When workers are able to work from a virtual office, such as from their own home, this helps in saving on costs that are often associated with operating a brick-and-mortar facility. In fact, the expenses of a virtual office are a fraction of what has to be paid for leasing office space. For businesses that are just starting up, the cost-efficient pros of using virtual offices may be a key factor in the business' initial success. The money being saved by using the virtual offices can be spent on other core business functions including marketing methods.
Easy Growth: Once a business gets up and started, many times, after a short period of time there is a need for growth and expansion. While growth and expansion is a good thing, accommodating these two factors can be somewhat difficult for those businesses located solely in brick-and-mortar facilities. When allowing workers to perform their duties from virtual offices, the ability to grow and expand becomes much simpler.
Enhanced Features: Many virtual offices come with an abundance of features. Such features can include free text messaging services, advanced telephone services, Cisco video conferencing features and much more.
Cons of Virtual Offices
No Home-Base: Businesses that allow workers to perform their duties from virtual offices tend to have an assortment of workers from an assortment of locations. Essentially, there is no home-base office. For a business that needs an actual physical space to work from, it is best to steer clear from virtual offices.
Shared Resources: When virtual office employers work from virtual offices, they tend to share their resources with technical support workers as well as other office staff members. This sharing is great in the sense that it can actually be shared, however, for workers that have a high need for certain resources, sharing them becomes a hindrance to productivity levels. Not to mention sheer office space; If using the physical location's conference room space is on your priority list, you will have to keep in mind that there are many people using the same space so you run the chance of feeling like a guest.
There are a lot of advantages of acquiring a virtual office for your business, and if you find that they outweigh the cons, it may be well worth it for you to take the next step.