Summary: While many startups might launch in a garage, this may not be a good location for businesses that want to look professional right out of the gate. If this sounds like you, then you should instead opt for coworking spaces. When looking for one, you should consider the location, the amount of space you require, the amenities you need, and the atmosphere of your chosen coworking space.
For most startups, renting out an office is simply not wise and economical. This is why most people start their businesses in their homes or in their garage. However, you have to admit that your home or your garage is probably not conducive to a working environment. These are not places where you can bring clients or brief people about your business. Moving forward, you would probably want to expand and get more people, and this will raise issues re: space and home privacy. There is also the difficulty of separating your work life and home life. If you set up your business at home, your attention will be split multiple ways all the time, thus lessening your productivity.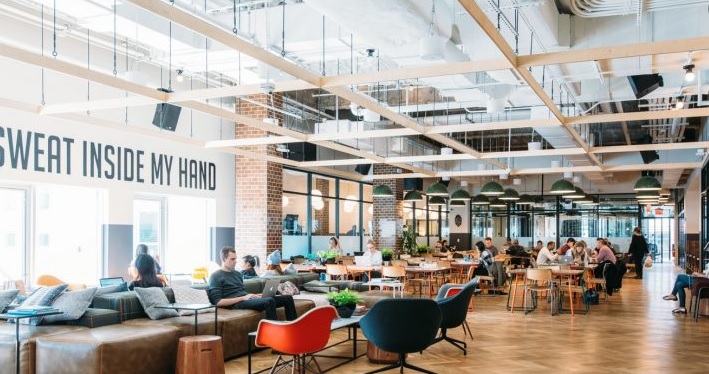 Opt for Coworking Spaces Instead
Luckily, there is another available alternative that won't cost you that much and is super flexible depending on your needs. These are coworking spaces. A coworking space provides you with a perfect environment to get you working. Some of the best coworking spaces have complete amenities, including tables, chairs, printers, Wi-Fi, and many others. The best part about coworking spaces is that their rates and arrangements are flexible. You can rent for a day, a week, a month, or a year.
How to Find a Coworking Space
There are tons of coworking spaces available with different layouts, furniture, and arrangements. If you want to know more about coworking spaces and how they typically look and cost, you can easily look for a coworking space online or call them to ask for more details. However, before you do, here are some things you might want to take into consideration:
1. Find the right location
Coworking spaces are available almost everywhere. You will probably find one in most cities, so the question is where you would want your coworking space to be located. Do you want a coworking space near your house to make it easier for you to travel? Do you want a coworking space that is nearer to your clients, so as to make it easier to schedule meetings and organize presentations? To find the right location, you have to know what your needs are and why you are renting a coworking space in the first place.
2. Think about how much dedicated space you need
Coworking spaces offer different arrangements. One such factor in those arrangements is how much space you need. You can have a simple desk in a shared hall, or you can also opt for an office. Your desk can be a shared desk, meaning you can go for any desk that's available at the time you have to work. It can be a dedicated desk, meaning that the desk would be specifically used only by you. These desks usually come with cabinets or drawers where you can leave your stuff for safekeeping, eliminating the need to bring them with you from home every time. Lastly, you can opt to have your own office, giving you even more space and privacy.
3. Jot down the amenities you require
Most coworking spaces do offer basic amenities like tables, chairs, and internet connection. However, depending on your work, there might be more amenities that you need. If you are planning to meet clients, look for coworking spaces that offer meeting rooms and receptionist services. For those who can't work for long periods of time and need to rest, some of the best coworking spaces offer kitchens and break rooms where you can have a snack or take a nap. Whatever the case may be, be sure to list the things you think you might need and ask the coworking space if they have these.
4. Check out the atmosphere of the coworking space
Coworking spaces have a different vibe depending on the people who work there. If there are students, it could be a bit noisy because of group discussions. There are others that feel really professional, while some coworking spaces feel more relaxed. The best way to find out is to schedule a visit or have a trial to see how it feels to work there.
If you are looking for a coworking space near Denver, then you should seriously consider YourOffice-Denver. We offer affordable rates with the best quality amenities and services. We will provide you with all your office needs to help your business grow and succeed. Drop by today to see our wonderful office and amenities!  Click to check our 5 star reviews!