Why Study in a Coworking Space?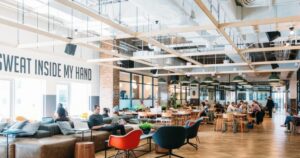 Coworking for Students:  With most schools shifting to online classes, one dilemma for some students is that they do not have the right environment and the proper tools at home for studying. For these students, a good option is to find a coworking space to rent out.  Coworking spaces provide complete amenities, a healthy environment, and flexible arrangements for students.
Due to COVID-19, most schools across the world remain closed or have shifted entirely to online learning, which could be a disadvantage to some students. Not all students have the necessary materials and capabilities to study from home. Some do not have room and would need to study in shared spaces at home, which as we all know can become noisy at the drop of a hat. Further, some students do not have proper desks at home meant for studying; usually they must rely on dining or side tables, if available. Apart from this, a good internet connection is also essential, which some households may not have. As such, a good option to consider is to study in a coworking space for students.
What Are Coworking Spaces?
A coworking space is a shared office where professionals, freelancers, employees, teams, and students can rent out a spot. There are desks, chairs, and other materials you would need to work or study. There are also several plans that you can choose from, depending on how long you need it, the amount of space, and other necessary factors when working or studying.
Why Use a Coworking Space?
Most people may not be familiar with the idea of a coworking space, as it's a relatively new concept to many. These allow companies, freelancers, and students to work in dedicated spaces without renting an entire building. There are a number of reasons a coworking space might be the best option for you:
Complete Amenities
One of the greatest benefits of coworking spaces is that they offer complete amenities and have all the materials you might need to be productive. There are desks, chairs, couches, and lounge areas. When you are tired of studying, you can opt to take a short break or even a nap. Many coworking spaces also offer storage so students can secure their books or laptops, meaning they don't have to carry everything with them all the time. Apart from this, other amenities are also available. Should you need to meet with your classmates or finish a group project, coworking spaces also provide meeting rooms of different sizes depending on the number of people who are coming. Furthermore, you no longer have to worry about your internet connection. Coworking spaces provide a stable connection so you can work without technical difficulties.
Healthy Environment
For most students, the home is not the perfect place to study. It blurs the line between learning and doing chores. If you do not have room at home, you might not be able to concentrate; common areas are noisy and often distracting. Luckily, coworking spaces provide a healthy environment for studying and working. Because most people here are professionals or students, the atmosphere is professional, and everyone is respectful of each other. I can be perfect whether you want total silence or work better with others to interact with.
Study When you Want To
Another one of the benefits of coworking spaces is their flexibility. Most coworking spaces are open 24/7. This is convenient for students, especially if they have exams the next day or a deadline to catch and want to study and work during late night hours or into the early morning. Coworking spaces also offer a variety of plans for students. You can rent it for a day, a month, or a year depending on your needs.
With COVID-19 not going away anytime soon, we can expect most classes to continue online while in-person classrooms remain closed. If you are looking for a place with a good environment to study in, you might want to consider renting out a coworking space. Drop by YourOffice Denver and try us out, whether it's for a day or a month, and find out if a coworking space fits your studying regimen!