Better services from your office space provider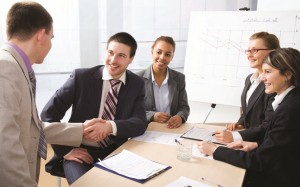 Better services from our staff members distinguish us from our competitors and will make you happy with your Denver executive suites selection.  When you evaluate your next executive suite office, virtual office, or coworking space provider we encourage you to be discriminating about the following subjects.
Longevity:
When you evaluate providers of executive office suites for rent, we encourage you to ask the staff how long they've been aboard.  Turnover is a sign of an unhappy environment which usually leads to an unpleasant stay by the customers.  Our business center manager has been with us for more than fifteen years and turnover at the entry-level positions is surprisingly low.
Local Ownership:
Our business center is locally owned and operated.  The owner works full time in the facility which results in quick decisions and quick fixes to problems that we encounter.  Executive Suite operators with corporate ownership often have to live with visible and technical problems awaiting approval from above but not at YourOffice. We will make sure your meeting rooms are working perfectly.
Customer satisfaction:
With the Internet as your assistant, we recommend that you search for complaints at the Better Business Bureau or ComplaintsBoard.com as you evaluate Denver executive suites providers.  When you visit us we'll encourage you to ask our customers what they think of their stay and we'll allow you to speak with them in private if you prefer.  We're proud of our reputation as Denver's finest executive suite and we're sure that you'll be very happy here.